Earlier this week, local NH band Cross the Divide, in a valiant ditch-all attempt to get fans out to shows, announced the tragic deaths of each of its members. Naturally, fans of the hard rock artist were speculative and wondered how the band members were still posting if all the members were, in-fact, dead. 

Rumors of the faked deaths have thrown fans of the band into a frenzy, causing many to abandon the artist entirely, but hardening most in their loyalty. 

News of the first alleged-death broke Tuesday when Cross the Divide's myspace page announced the death of drummer, Jake. The posting simply stated "R.I.P Jake. Wish you had stayed for the movie." Later that same day, the page posted again offering more "detail" into the touted departing of their friend by stating "[Tuesday] Jake was the unsuspecting victim of darkness in the valley. We cannot sleep, we cannot dream tonight. You're already a voice inside our heads. Can't believe you're ded"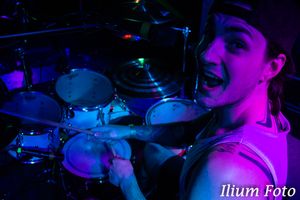 With fans already in an uproar over the death, the band followed this story on Wednesday afternoon by announcing that bassist, Chase, had been found dead that morning. The post stated "..Chase got shot.The po-po are looking into it.." The posting asserted that Chase had been in a fight the night before, with a dozen midgets and a shark. The band blamed the shooting on the shark, but made no further comment on the matter. 

At this point, fans of the band were beginning to suspect that these deaths might not be real, and the members still seemed to be commenting on their twitter accounts and sending snaps on snapchat. One user shared that Chase snapped a photo of himself in a speedo with the quote "This freek won't breek the streek".

On Thursday morning the band announced the final, and most confusing death: of guitarist, Zac. The post offered a selfie of Zac covered in fake blood (which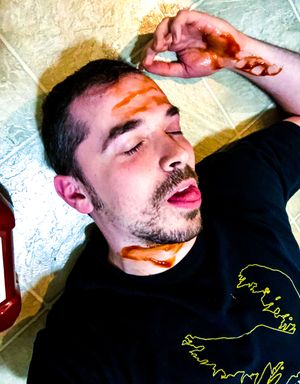 we assume is ketchup, as there was a ketchup bottle in the photo). The caption read "I dide for real. I'm really dead. Avenge me!" before switching voices in the same post and saying "We never won't forget him, the leader of the pack. - Jake and Chase"

As allegations and charges mounted against the band that the deaths were faked, the band hardened its stance stating, "We're dead. Just grieve and move on. Also, please buy tickets to our show this weekend."

The band's show this weekend is reportedly SOLD OUT, as are all of the deceased band's upcoming tour dates.